MY FIRST TIME IN MAURITIUS
(Visited Mauritius from 6 to 15th October 2019)
If you are a kiter, Mauritius is probably on your Top 5 of "places to visit" and, you are not in the wrong path. Personally, I've been wanting to go since I got to know about the awesome kiteboarding conditions (you know, the waves) the island has to offer. Yes, world-class waves and endless lagoons are some of the things you can expect from this awesome place. What else can you expect? How to get there? Where to stay? Let me bring you on a reflection of my favorite trip ever: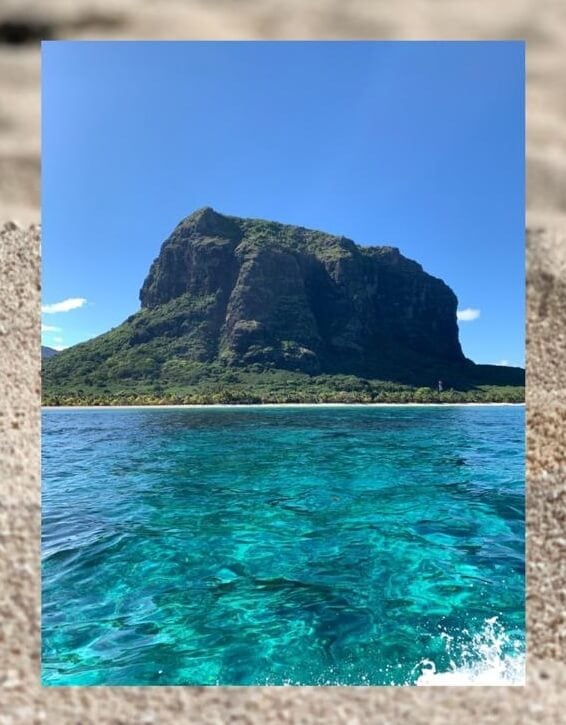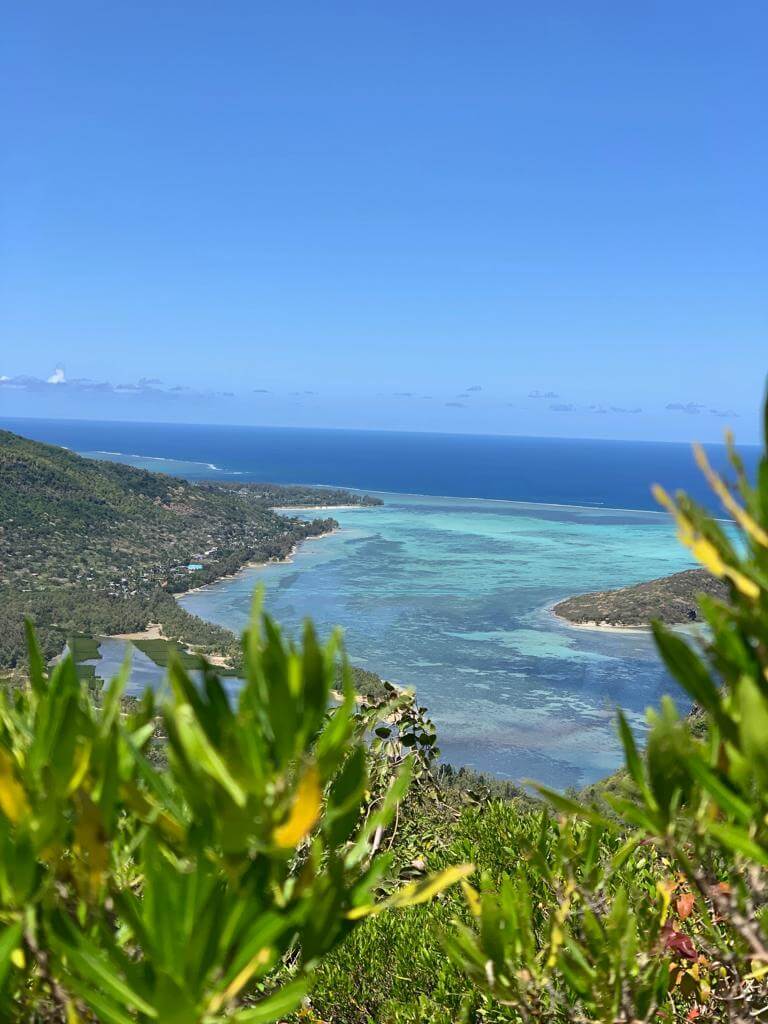 I flew with Air Mauritius. They offer direct flights from Amsterdam (AMS), Paris (CDG) and London (LHR), to my eyes, this makes the trip really easy because you just need to reach one of these big international airports and, magic, you're on a direct flight to the island of your dreams. I have to admit the plane was really comfortable, I flew in tourist and I even had footrest! On the other hand, I am not the tallest person in the world (about 173cm) but I usually touch with my knees with the front seat (companies seem to be making space in between seats smaller and smaller), but on this Air Mauritius plane I had plenty of space for my legs. They had a lot of movies, games, books, and music to choose from the entertaining system and food was yummy. From the airport to Bel Ombre Heritage Hotel there's a 50-minute ride that I did with a transfer from the hotel. Enjoy the beautiful views on your way to the hotel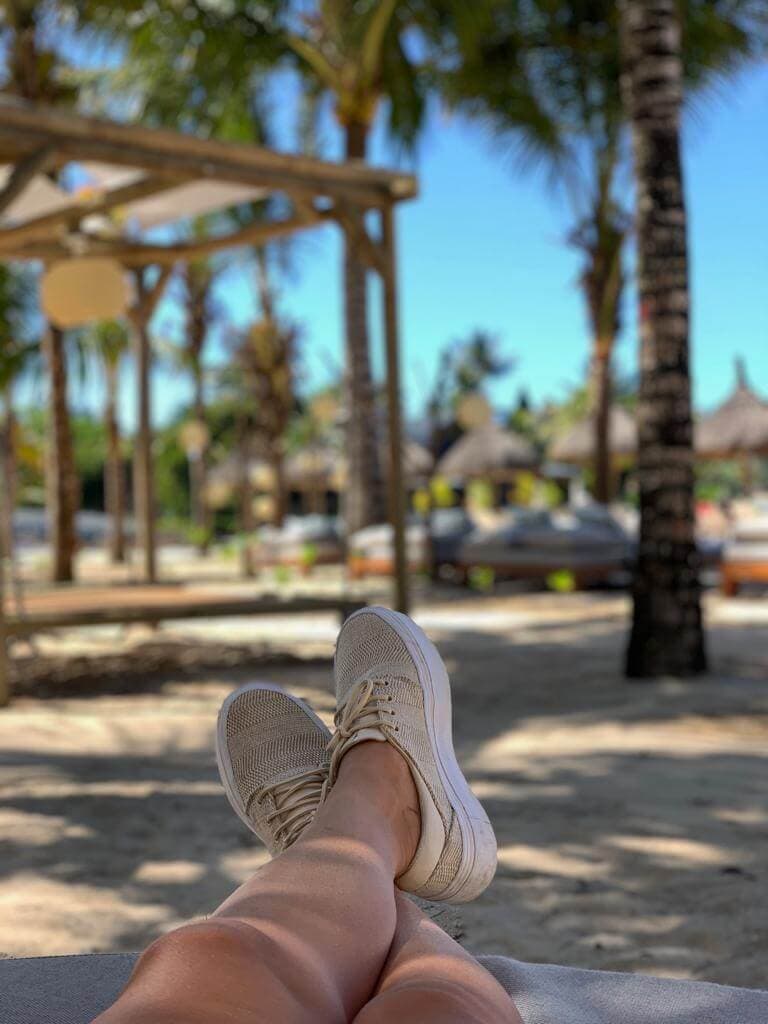 Let me tell you this has been the best hotel I've ever been to. Let me tell you why; I had the absolute best time ever at the 'Villas Valriche' from the Heritage Hotel (there are different types of accommodations to choose from so you can find what fits you best) so I will be talking about this accommodation since, during my stay in Mauritius, this was the place I stayed at. I remember really good arriving at the reception of the hotel and already being impressed, it was beautiful! There I did my check-in and got helped to bring my bags to what was going to be my house for the next 10 days: the villas. The villas are 2-floor houses with terrace, pool, bbq place, 3 rooms, 1 big living room, and 3 bathrooms and 1 toilet, pretty much, an epic house to stay at with friends, family… My room had a huge king size bed, own bathroom with a bath and an outside shower (which I used the most during sunsets or in the morning) with views to the beautiful scenes around the vila. We were having breakfast at the C Beach Club.

To get there we were given a golf cart since there are about 5 minutes in between the vila and the breakfast place. The road from the vila to breakfast is simply insane already, you go through the golf course and it just feels like you're not in a hotel but more like having a tour through a breathtaking Mauritian jungle. Sitting at breakfast means sitting close to the pool that leads to the beach and in less than 100 meters you can already go kiting in the lagoon. Every morning felts like a blessing. I think we were very lucky to be able to experience breakfast in a place like that every single morning.
Bel Ombre is the place to be! If you travel with small kids or family or friends that don't kite, it might be the perfect place for all of you. Family can swim in the lagoon (or the pool), sunbathe in the comfy hammocks just 10 meters away from you while you kite in the lagoon protected from the waves by the reef. You're a waves lover, well, check out the GKA Kitesurf Instagram to see how the waves were there… So let's check some main points:
– WATER TEMPERATURE: Water is warm, I was using a ION MUSE 2mm shorty (long arm, short leg) but some people were using just a t-shirt.
– KITE SIZE: I used 7 and 9m DICE and a 5″0 Hybrid from Duotone Kiteboarding (I am 62kg)
– AIR TEMPERATURE: during the day and if sunny I was using short jeans and tshirt, if cloudy I would easily wear a hoodie. At night long jeans and a hoodie were enough, it did rain a bit so a thin raincoat will be helpful.
I was thinking about making a whole new blog post talking about the event but I've decided I'll shortly talk about it here. This is not the first time a kite world tour stop comes over to Mauritius but it was the first time that it happened at the spot of Bel Ombre. This GKA stop was a double event, this means, wave riding and freestyle twintip took place. For the wave riders, it was the 4th out fo 6 stops (Cape Verde, Germany, Tarifa, Mauritius, Dakhla & Prea) and for the freestylers the 5th out of 6 stops (Leucate, Gran Canaria, Tarifa, Fuerteventura, Mauritius, and Morocco). I loved to see the two disciplines interacting with each other at the same spot, it says a lot about the capabilities from the spot, the GKA and the local organizers to be able to make an event like this happen, the vibe was awesome! The whole GKA team worked so hard! Media crew worked tirelessly as well as the judges, it gives a lot of faith and lights the future of the sport, crossing fingers for many more years like this. The freestyle competition was absolutely exciting; Mikaili Sol from Brazil took the win after a slow start of the season, she almost got caught in semis but with just 3 tricks made it all the way to the final and, once there, stomped trick after trick. My friend Rita Arnaus made it all the way to 2nd spot! And maybe the upset was Paula Novotna, she did not make it to the final which wasn't something expected after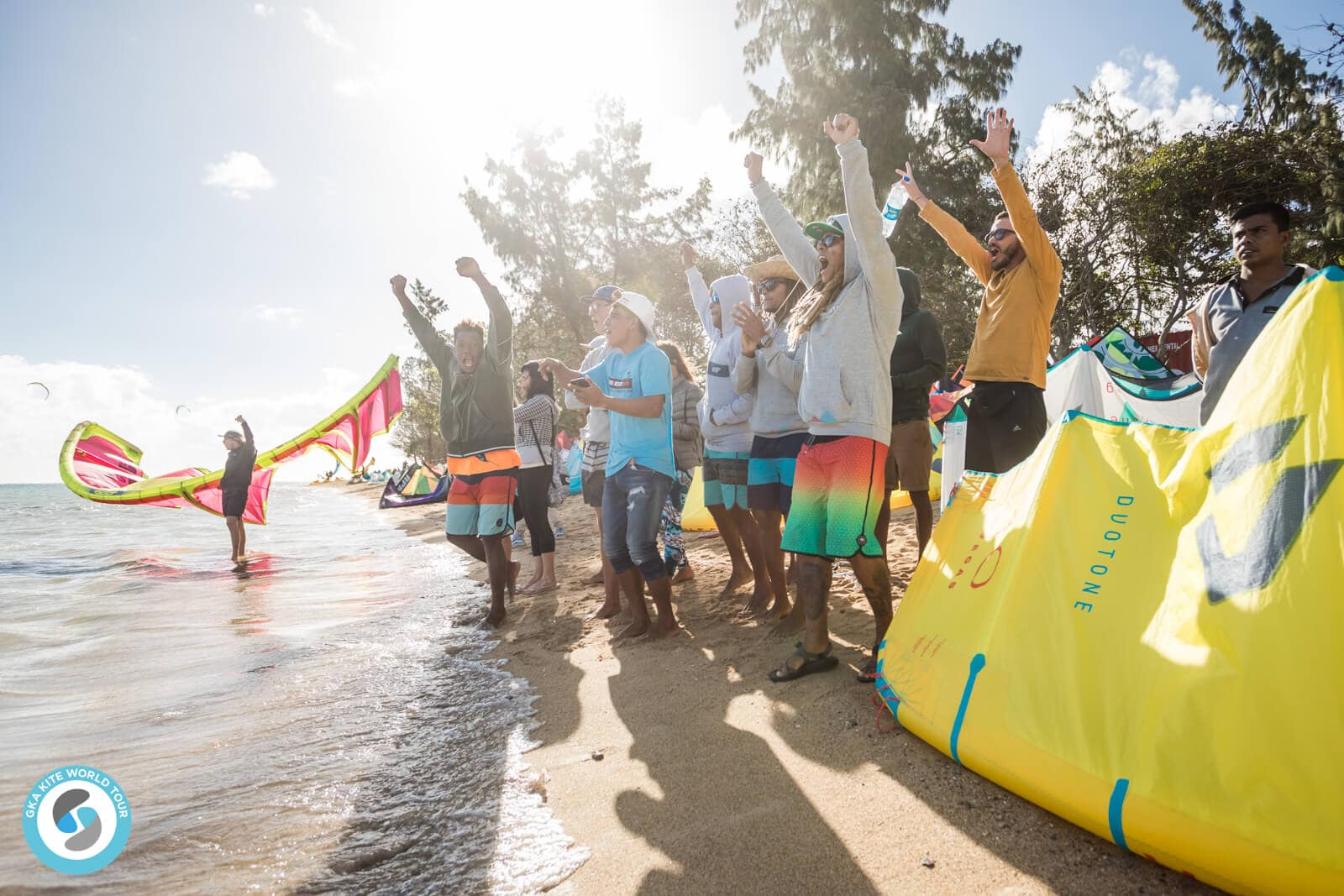 (Photo by Svetlana Romantsova/GKA)

winning her first event ever in Fuerteventura. On the men's side, the winner was not decided until the last trick was landed. Valentin Rodriguez was winning and Adeuri Corniel needed a 9 to win the event. Oh well, he landed the 9 point trick. I have to mention, the action was so close to the beach that it almost felt like a video game! On the side of the waves, the action was a bit further on the reef and I was lucky enough to watch the women's final from the tower where the crew was. Girls were rippin, Ninja Bichler made it all the way to the final after winning 5 heats in a row and found hungry Jalou Langeree who took the win home. I loved to see the girls ripping (proud girl over here). On the men's side, Airton Cozzolino, once again, took the win, this guy is a beast. A bunch of crazy moments happened like James Scarew or Ozzie Smith loosing their kites during their heats, Sebastian Ribeiro climbing up 7 heats in a row in the doubles… What an event!
Coming back to Mauritius and my experience here, I have to admit: I did not have much spare time apart of the competition and kiting myself but, from the things I got to do I would totally recommend:
Buildings. I was absolutely shocked (in a good way) on how much construction has respected the environment (to my eyes and coming where I come from), let me explain. When you go out to the reef to catch some waves, you get a bit of a panoramic view of the spot you're at and, to my surprise, hotels, houses, and building, in general, were REALLY HARD to spot! No building around was higher than the palm trees. Everything is mimetized with nature, which makes me really happy and makes me believe in humanity! Building something else than a 20 story huge hotel resort is possible, building adapting to nature is possible and Bel Ombre is a good example of this. Thanks a million to whoever made rules hard to break!
Culture. The internet will tell you better than me but, Mauritius was a Dutch, English and French colony! You're technically in Africa but you'll find Indians, Europeans, Asians, Africans… I loved this contrast, it was a surprise to me to find churches and Indian Temples everywhere and really close together.
Common sense. I think I can never say it enough but, before trying a new spot for surfing, kiting or whatever sport you wanna do, ask a local or someone that knows the spot. You're playing with the sea, a really powerful piece of water that can hurt you badly if not respected. Take some time and, before running to the water because waves are pumping, make sure you know everything about the spot.
Mauritius absolutely stole my heart. It's astoundingly beautiful, food is awesome, people are awesome, the kite spots are awesome, Heritage Resort was absolutely mind-blowing… I only have good words for this island. Should you visit? Absolutely yes.
I hope this post gave you a little glimpse of what I experienced and, I hope you liked it.
Thanks a million once again to:
 @heritageresorts 
 @airmauritius

 for making the trip of my dreams come true.

Also to Louka Pitot for making the connection happen. You are awesome! Give him a  follow 😉
I can't wait to be back
See you in the water,